So this is Part II of III in the exciting, thrilling, jaw-clenching, white-knuckle-inducing short story "Extreme," by best-selling pot-boiler author, and screenwriter, Don Winslow. As evidenced by the exciting illustration below, it's pretty exciting...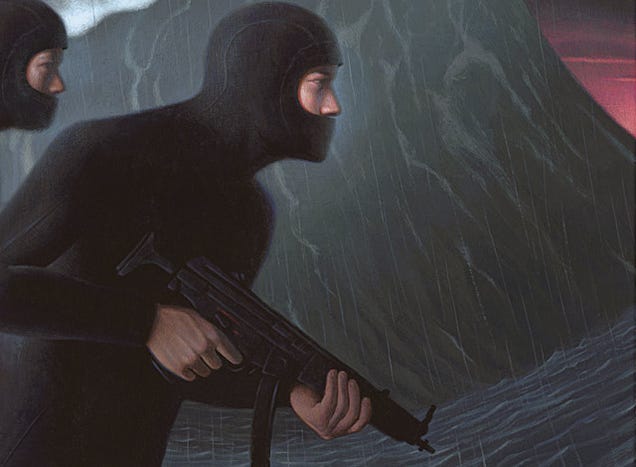 Man in mask with gun, circa 2014
Pretty sure I'm one of about a dozen people in the entire Playboy-reading world that has bothered to keep up with this little short fiction mini-series, and--I'm abundantly sure and would be willing to bet money on it--that I'm the only person blogging about it, in stages. Not that it's patently "bad" in any way (it does get pretty exciting at one point) it's just that there are myriad other attractions in
Playboy
and it's not like Winslow is breaking any new ground here that desperately beckons to be explored. In fact, it feels like the story is something that belongs in a 1999 issue of
Maxim
.
The Plot:
A group of world-class extreme sports athletes decides to hijack the yacht of a Russian billionaire and rob him of $1 billion cash.
That's probably the clearest and most concise plot summary I've ever done. Part I was the "set-up," Part II was the implementation, incident, and part of the escape. I'm guessing Part III will be the rest of the escape and the aftermath. I'm also guessing a few more people will die (the pilot of the getaway helicopter already got his neck broken in the "fake" crash landing into the Pacific Ocean).
Why read a story like this? First off, it's my self-appointed mission to keep up on the fiction in the
New Yorker
and now
Playboy
so I have to. Second, while plot-driven stories like this don't add much (if anything) to our collective understanding of what it means to be a human being, they can provide good instruction on basic story structure and pacing: Something is going to happen, we know it, and we watch carefully to see how it unfolds. Even the flaws in a story like this can teach something to the astute reader/writer.
The whole three-part construction, in this particular case, really highlights the three different stages in a story -- Conflict, Action, Resolution. However, Winslow's pacing leaves something to be desired. He seems to slow down for certain parts then speed up for others, without any real rhyme or reason; he goes into almost second-by-second detail in some parts, such as when Kurt and Paige are making love (okay, it's Playboy, I get it), but then glosses over others, like the crew's hasty escape from the fire-fight on the yacht and their dump-off of the stolen loot. I'm always put-off by film and fiction in which certain key parts of the action are glossed-over too quickly or certain very difficult obstacles are solved too easily...that always makes me want to tune out. It's like the author/director has something he really wants to "get to" but doesn't (for whatever reason) want to just get to it...he feels he has to give this whole build-up first.
A truly gifted and skilled craftsman would be able to pack all of the back-story into the most interesting parts of the action, or whatever he felt he wanted to show. Is he just trying to get to the "escape" part of the story? Then start us in the middle of the fire-fight. Why waste a whole section of the story on build-up? Do we need to read about how the team prepared for the heist? Meh. Only if it elucidates some key elements of character that we couldn't otherwise get. But as I'm reading this, as soon as I know they're preparing for the heist (in the middle of Part I, mind you) I start thinking: a.) When is this damn heist happening, and b.) How are they getting away with it. And B is probably the most interesting one of the two.
The lesson here, I think, in the words of David Mamet: "Start as late as you can and end as early as you can."