On Monday night
Manchester United
and
Liverpool
played-out the final of the
Guinness International Champions Cup
, a pre-season tournament between eight of the top European club teams contested on American soil. Great not only for the promotion of soccer in the U.S. but a welcome fix for burgeoning soccer junkies who can't wait until the start of the English Premier League season.
Liverpool seemed to dominate the first half; every 30 seconds it seemed like striker Raheem Sterling was racing down the left side of the field, getting open for a thru ball and getting at least a run on goal if not a shot. But alas, he never put one in. Liverpool's only score in the half came from a Stephen Gerrard penalty kick in the 14th minute.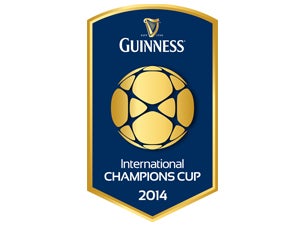 Manchester United came back after the half and almost immediately began to dominate the game. Wayne Rooney and Juan Mata scored within three minutes of each other (55' & 58'), lifting Man U to 2-1. The final nail in coffin came much later in the game, off Jessie Lingard's foot. Final score: 3-1.
Some Observations:
Since my main exposure to soccer over the past 10 years has been World Cup match play -- and little else -- I'm woefully ill-versed in club football. Since the world cup ended I've seen two full matches, an MLS game between Sporting KC and Phila Union, and Man Utd. v. Liverpool, and bits of a few MLS games here and there. The difference in play between World Cup soccer and club soccer is pretty pronounced, in my mind. I'm sure there will be salty old soccer fans out there who will scoff at this, but here goes:
Club soccer, for the most part, seems to be played faster and sloppier. To whit: it's more fun to watch. The players seem to attack the ball more, make more lunges, intercept more passes, get beaten more, and a goal doesn't seem quite as much like Manna from Heaven as a logical part of the game. Why is this? My guess is, since a random club match rarely carries the Do-or-Die consequences of a World Cup match, the players feel a bit more free to play the game and make mistakes. Also, club teams practice together and play together year-round, therefore they know each others habits and strengths. Sub-consciously I'm guessing this makes them more comfortable on the field and therefore more willing to take chances.
Anyway, aside from the thrill of Country vs. Country and the high-stakes of the World Cup, I'm frankly having a lot more fun watching club soccer than the Copa de Copas. There's a certain constipation, a tight-shouldered grimacing tension about World Cup matches. Every goal counts 100 times more than normal, every match seems like it's do-or-die. That's fun and all, but even as a fan it can be exhausting. I'm finding club soccer much more fun to watch, in general, which is a good thing because the World Cup isn't coming back for four years...