Native San-Diegan Nolan Turner is the winner of the 2014 Playboy College Fiction contest. A recent graduate of the University of California at Irvine, Turner has recently switched coasts, trading the clear skies and authentic burritos of Southern California for the gritty streets of Brooklyn. His contest-winning story,
"
Something Ancient Welling Up
",
features a down-and-out gambling addict, a dilapidated roadside theme park in the Utah desert, and a literature-quoting, Red Bull-drinking Minotaur. Between researching an upcoming Raymond Carver/Satanism mash-up and getting accustomed to the work-a-day, nine-to-five world, Turner was kind enough to sit down and answer a few questions about his work, his aspirations and the most important question of all: Did he get to meet Hef???
GC: First of all, congrats on winning the Playboy College Fiction Contest. That's a pretty incredible honor for a young writer. So…what is it like to be the PCFC Winner? Has your life changed at all? Do you have literary agents calling you now? Did you get to meet Hef or visit the Playboy Mansion? Attend any cool parties?
NT:
Thanks! The whole thing was sort of surreal. You go through life never expecting to have your picture on the same page as
David Fincher
's in a magazine, and then it happens and you think, "Okay, wow." For the first few weeks correspondence was sparse, and so every day I was expecting an email saying, "Shit, dude, sorry, we made a mistake." I didn't allow myself to commit fully to it until the check came…and the check came surprisingly quick.
As far as real changes—I've been hit up by a few agents. They were polite, but I could just picture their shoulders slumping down when I tried to talk to them about my short stories. It became clear pretty quick that they were just trying to sniff a novel out of me. That experience made me feel a lot of different things: I was happy that they were interested in my work, I was mad at myself for not having anything to even pitch to them, and I was a little upset that they didn't even want to talk about the short stuff. I guess being confronted with something like that always stings, even if you've been trained to expected it.
And as far as the Playboy perks—none to speak of. I was interested! I mean, who am I to refuse a trip to the Playboy Mansion? I thought given my proximity that maybe they'd want to meet me, parade me around a little. I never asked the questions. I didn't even know who to ask. The editor that I was working with based out of New York, and the PR person I spoke to once or twice was in Chicago. I wasn't exactly juiced-in to the whole song and dance.
In your bio on the Juked website, you say that you're a born and bred San Diegan, and that "any associated stereotypes are likely true." What is a stereotypical San Diegan? Does your "San Diegan-ness" come out in your writing at all?
I feel bad, because that line was sort of flippant. I can only speak to the things that I think of as being staples of San Diegan life. Two things really stick out: beer and burritos. To be a San Diegan means that you love beer and you think that everybody else in the world does burritos incorrectly. Most places you go outside of California style their burritos after San Francisco. But the thing anyone south of Fresno will tell you: San Francisco doesn't know anything about burritos. The whole thing is wrong. Just completely wrong. Beans in a burrito should fall into two categories a.) refried, or b.) none at all. Rice in a burrito should fall into two categories: a.) neon, glow-in-the-dark orange, or b.) none at all. Somehow the San Francisco idea of a burrito has caught fire and it needs to stop.
Oh, and people think about surfing, I'm sure. I haven't set so much as a toe in the Pacific since I was twelve. One summer I went to the beach every day, and out of nowhere I developed an absolutely debilitating fear of anything and everything that could hurt you or come upon you in the ocean (sharks, jellyfish, stingrays, rocks, coral, seaweed, etc.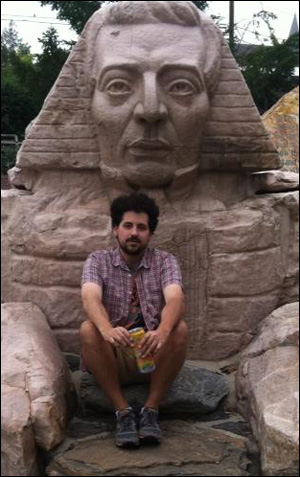 Nolan Turner
As far as San Diego as it relates to my writing, I've never felt particularly attached to San Diego in a stylistic sense. I've never set a story there and that's something that has started to bother me. Even when location isn't really a factor in a piece—when it's just some faceless apartment building or something—I never picture it in San Diego. Although San Diego is a big transplant town, because of the large military presence, so maybe I've been representing the city better than I thought. It's a city that I appreciate and enjoy a lot and it's a city I've called home most of my life, but it's never really inspired me creatively.


The question "Who are your influences?" tends to give people hives, but…was there a book or books you read at some point in your life that made you say: "I want to be a writer"? What are your "desert island" books; the ones you can read over and over?
I wish I had more interesting answers to a question like this. Honestly, the first time I read a book and said, "Dude, this is what I want to, like, do," it was 11th grade and the book was The Great Gatsby. I had mostly been pretending to like reading up to that point because I wanted to seem smart. But Gatsby kind of lit the whole thing for me.
And the second part is another shameful secret: I don't really re-read books that often. Especially books that I read when I was younger. I have this fear of re-evaluating things that I used to love. It's different for short stories though; I go back to short stories that I love all the time. One thing I love to do is read something very short while I'm on the toilet for a quick burst of inspiration. My go-to toilet writer is
Amy Hempel
. She's great for a thirty-second spark.
Ryan Ridge
's collection
Hunters & Gamblers
is another. I go back to things that I love when I get stuck structurally. Movement has always been an issue for me in my work—physically getting bodies from one place to another.
My desert island books? That's easy: Ulysses and Gravity's Rainbow. That's the only way I'll ever read either of those books.
Your contest-winning story, "Something Ancient Welling Up
," features a Minotaur who smokes and drinks and reads Graham Greene. How does mythology influence your work or your interpretation of literature, humanity, the world, etc.? I suppose a simpler way to ask this is: why a Minotaur?
The Minotaur was really just a holdover from an earlier version of this story. I wanted to write a story about a guy who had found a Minotaur and was teaching him how to play baseball because there was a loophole in the Major League Baseball guidelines and there was nothing in them that said you had to be 100% human to play in the league. So they were teaching this Minotaur had to pitch, and naturally he could really bring the heat. The story transformed when I just kind of ran out of gas with that. I didn't know what else they were going to be doing. I started leaning in other directions, and eventually Tommy taking Max out to meet this Minotaur that he had been teaching a curveball just didn't work anymore.
But in terms of mythology, it's definitely always something I've been interested in. I read books about the stuff when I was a kid. I knew the names of the gods, even the small ones. I watched stuff like
Hercules
, you know, the one with
Kevin Sorbo
? I think what I appreciate about mythology is that they're trying to get a point across, but they're not trying to be obtuse about it. It's pretty straightforward, and that's how I try to write. I don't want anybody to think that I'm trying to be too clever. I want to be clever, but just the kind of clever that makes you nod your head and say, "Yes, of course."
Art by Benjamin Wheatley for Playboy
It's always fascinating when writers reference certain works of literature or art in their own stories. I don't know many humans, let alone Minotaurs, who are familiar with Greene's the The Heart of the Matter, but you manage to make it function in the story in a really interesting way. To whatever extent you feel comfortable, can you explain how this reference worked its way into the story?
I try to make it my goal in life to get more people to read Graham Greene. He was just such a fascinatingly dour guy. But he's an example of a writer that I doubt I can read ever again. I can return to some of the lighter stuff, like his spy stuff or the short stories, but when it comes to his "important work"...I just don't think I'd want to touch those ever again. I'd also just be tremendously embarrassed to re-read some of the notes I made in those books when I was like 18 or 19. I can almost promise you that I underlined stuff and wrote "symbolism" next to it, with a star.
I actually came to Graham Greene through my 12th grade English teacher. In California, 12th grade is "British Literature." At least it was for the kids who were barely on track to graduate. My teacher was this slobbering Anglophile who told us on the first day that his class—and specifically Brave New World—was going to change our lives. At one point, he gave us a recommended reading list for an outside book report we had to do, and for me he recommended The Heart of the Matter. I don't know what he thought an unwashed kid who went around pretending to read Nietzsche would want with stuffy British lit, but I'm still amazed by how dead-on that was.
As far as how the book itself worked its way into the story, I think it's just a stylistic choice. I think "Minotaur reading Graham Greene" is better than "Minotaur reading Hemingway." Then as the story goes along and I'm trying to wrap things up, I think about
Ron Carlson
[co-director of the MFA program at UC Irvine] asking me what happened to the Graham Greene paperback: "We need to see it twice!" So I think it made sense that the Minotaur would have found something sad and poignant in the end of that book, something that was speaking to the shared fate of the characters. So, more than anything, it was just meant to be an organic realization on the part of the characters; it was me writing in to my own inane bits of characterization.

There's also a reference to the great 17th Century British politician Oliver Cromwell. Are you an Anglophile?
In the story I wrote right after "Something Ancient" I make reference to someone being an Anglophile, but I promise I'm not. The choice to name the dog Oliver Cromwell can be attributed to two things: that I always give animals strange names in my stories and that I had just watched the movie
Cromwell
.
I've read your story "Beyond Jerusalem" as well; I like how you juxtapose evangelical religion with fake dinosaurs and dilapidated theme parks, and characters working through confusion. This seems like a comment on the ridiculousness of organized religion vs. spirituality. Is that a conscious thing you're exploring in your life right now?
I wasn't raised religious—my family was the "We Go to Church on Easter and Christmas but None of us Really Care" type—so it's interesting to me that I've developed a real fascination with that kind of stuff. I'm definitely more interested in fanaticism than the guy who believes in God but shuts up about it. I would love to get around to reading The Bible, because I'm genuinely interested in it as a text. But, for now I'm mostly just taking very kind, gentle shots at the organized stuff.
I actually went to a Creationist Museum on the outskirts of San Diego once. It had this whole thing about dinosaurs and Noah's Ark. There was a little card that asked, "But weren't dinosaurs too big to fit on the ark?" and then you flipped the card over it said, "Noah only took baby dinosaurs!" The amount of problems that dinosaurs cause for the Young Earth set has always been fascinating to me. I just imagine those people walking around the dinosaur rooms at the Natural History Museum in Manhattan rolling their eyes and muttering under their breath. The Creation Museum was a trip, but it stopped being such a gas when we saw this young mother trotting her kids around in there. That bummed me out.
In terms of interests, I'm really interested in Satanism right now and what it means to be a Satanist in 2015. I've tried to find gatherings for Satanists just because I want to see what it looks like. There weren't any in San Diego. I haven't checked Brooklyn yet. If not in Brooklyn, where? You read their literature and they make it sound pretty rational, kind of like the "anti-religion." You do everything for yourself. You do what's best for you as long as you don't hurt anybody else in the process. I become interested in something and then all of a sudden most of my ideas for stories center around it. Almost everything in my head right now deals with Satanism in some way. I want to write an entire collection of Raymond Carver stories, only everyone in them is a Satanist:
What We Talk About When We Talk About The Baphomet
.
I've read that you're studying at UC Irvine. Are you in the Creative Writing program there? If not, what are you studying? What do you think you want to do after college? And…I don't want this to sound to "job interview-ish" but I'm just curious: where do you see yourself in five or ten years as a writer or with your career or just as a person?
I recently finished my undergrad at UCI. I decided to transfer there because I knew about their MFA program and I wanted to try to get access to those resources. And, honestly, the payoff was huge. The people I worked with there were so smart and so talented. My work improved exponentially, and everyone remains so supportive of me, even after we've gone our separate ways. I wouldn't have entered the Playboy contest if Ron Carlson hadn't told me to do it. I was then contractually obligated to sign over my winnings to him, but, hey, it was worth it…
And I think it's safe to say that I have no idea what I'll be doing in a few years. I want to keep writing. Lately I've been working on getting into the groove of working a mindless 9-5 job and then coming home and working for a bit. It's gone well. I have to remind myself that I've always made more money on this than most writers ever will and I need to respect that. I think I owe it to myself to keep going.
A lot of stuff. The stress of moving and the inevitable job hunt have put a damper on my productivity, but I'm finding time. One nut I'm really trying to crack is a story set in heaven. I'm interested in heaven as this really dull, miserable place. Doesn't heaven sound boring? You're always happy? Forever?
Another obsession of mine that I need to get out of my system is Jimmy Buffett. I'm working through something right now that involves Margaritaville being transformed into its own functioning country. Kind of like Disneyworld gone legit. The big question that I can't get over is whether Jimmy should be a part of the story or not.
Still messing with the idea of a novel, too, since that's all anybody wants from me. The idea I'm putting over low heat involves the long, strange history of women who say that they are in communication with God.
Nolan Turner's work has appeared in Playboy Magazine and in the literary journal Juked.
--
TGCB