What is the
Algarve Cup
, you may ask? For that matter, what is the USWNT? If you're asking the latter, you're really out of the soccer loop...if that matters to you one iota. The USWNT is the
U.S. Women's National (Soccer) Team
and the Algarve Cup is an annual women's international soccer tournament held in the Algarve region of Portugal. The U.S. Women just won it yesterday, beating France by a score of 2-0. I'd never heard of this cup until my recent and ever-expanding football mania took hold of me sometime over the summer and has caused me to look into the more obscure corners of the soccer world. This year the Algarve Cup is considered to be a pretty important tune-up (because it's the last tune-up) before the
2015 FIFA Women's World Cup
in Canada this summer.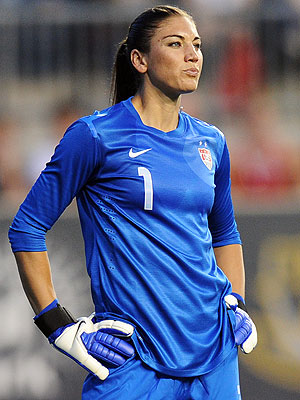 This woman will almost certainly kick your ass.
For those of you who don't know, the U.S. has a pretty badass women's national team. We've won the Algarve Cup 10 times in the 21st century, won the
Women's World Cup
in 1991 and 1999 and were runners-up in 2011. Although there is, right now, a strain of thought that suggests the USWNT is not as prepared as it should be heading into the 2015 Women's World Cup in a few months, yesterday's win over France in the Algarve has to silence some of those doubts. Especially because -- it sounds like -- France has a tough squad and was favored to win the tournament.
Here's a
short article about the game, featuring a Vine showing Christen Press scoring goal #2
...what you'll notice if you watch a few times is...there's NO ONE in the stands. I mean, like...no one. In the immortal words of
Tears for Fears
: It's kind of funny and it's kind of sad. But whatever...it's a women's soccer tournament in a rocky coastal region of a small, rocky Mediterranean nation.
The Maracana
, this ain't.