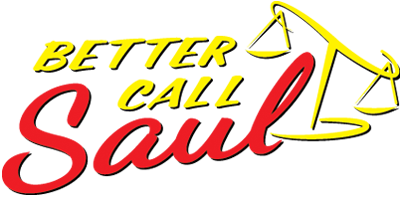 Never in history has an ambulance-chasing, two-bit, name-on-the-back-of-a-matchbook type lawyer seemed so likable as
Jimmy McGill
, a.k.a. Saul Goodman (s'all good, man!). But then, Season 1 doesn't get into the real sleaze. Instead, Season 1 is focused on Saul's rise from a petty swindler, to law firm mail boy, to actual, functioning, and not even really that sleazy lawyer.
For those who don't know (and there can't be many of you),
Better Call Saul
is the prequel/spinoff show following the exploits of
Walter White
's infamous lawyer from the T.V. show
Breaking Bad
: Saul Goodman. Saul was such an incredible character that I guess the only logical thing to do was keep him "alive" via a spinoff. Or else
Bob Odenkirk
(who plays Saul) just pulled the right strings. Somebody probably knows this, but I don't. Why a prequel? Probably because, if you remember, at the end of
Breaking Bad
Saul has to go into hiding, like everyone else who was involved with Walter White, and thus the "interesting" part of his life was likely over....
or was it???
Since Better Call Saul starts with Saul working in a
Cinnabon
in Nebraska, we can guess that, at least for now, the answer is Yes.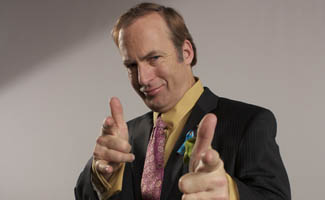 S'all good, man....
But the magic of
Better Call Saul
is not its tendrils of connection to to
Breaking Bad
(and there aren't too too many early in the season); the magic of
Better Call Saul
is Saul himself. Just like Walter White, Saul Goodman is a flawed but likable man with a singular obsession. Walter White's was being the kingpin meth cook and making money, Saul Goodman's obsession is -- at least initially -- to become a serious lawyer and be respected. At heart he's a two-bit swindler, but his efforts to be taken seriously and build a serious law practice, all while taking care of his shut-in brother, make him an extremely endearing character. Who could
not
like a guy with Saul's persistence, hustle, optimism, and unquenchable desire to succeed? Hell, Saul Goodman is the American dream!
in the show) to its big brother,
If at times Saul veers too close to coming off as a plucky, goody-two-shoes who just wants to get ahead, we are consistently reminded of his past as the swinder known as "Slippin Jimmy" back in Chicago, and a lot of his current-day shenanigans are less than what you might call scrupulous; he stages an accident and "saves" someone on video in order to gain notoriety. Turns out his past as "Slippin Jimmy" just will not die.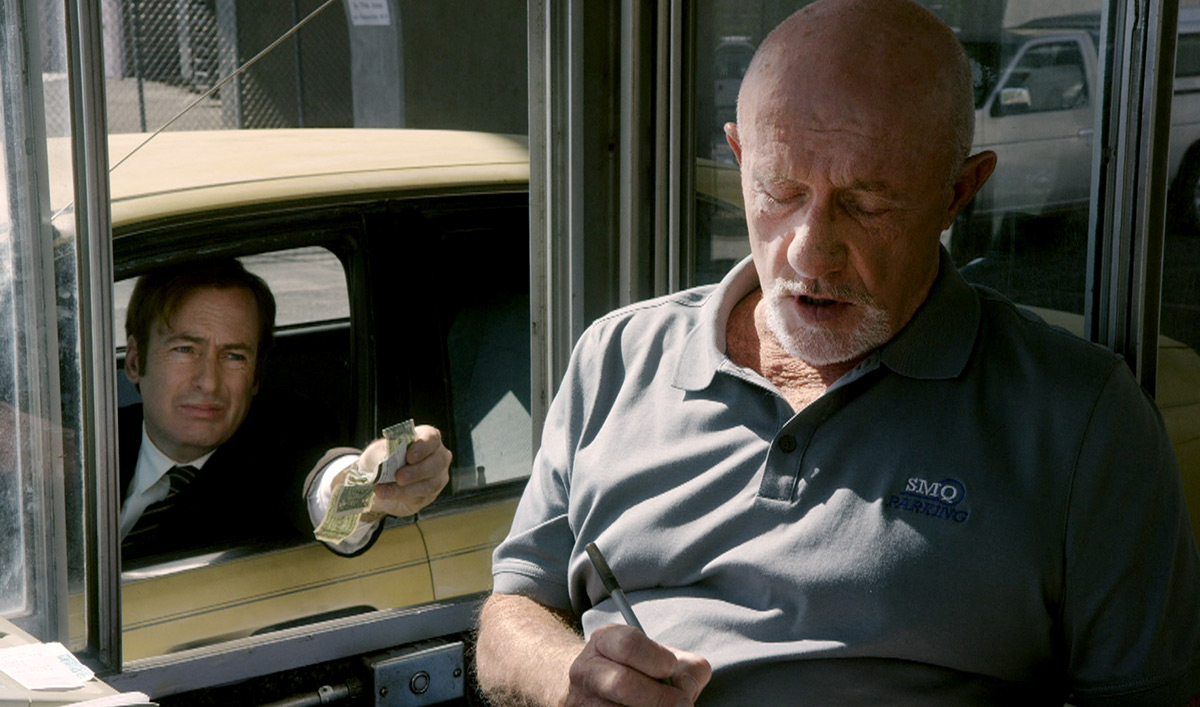 Saul Goodman and his future button man, Mike,
way back when...
Another great feature of the show is the presence and back-story surrounding
Mike Ehrmantraut
, the former Philadelphia cop who, in
Breaking Bad
, is employed as Saul Goodman's "button man," doing favors and shaking people down for money, but who, in
Better Call Saul
, is a lowly parking garage attendant who menaces Saul with his scrupulous demands that Saul get his parking ticket validated. Ehrmantraut's grandfatherly look combined with his stoic efficiency as a tough-guy, his resourcefulness, and single-minded loyalty to whomever he's working for make him
at least
the second best character in
BCS
if not tied for first with Saul. I can't wait to see Saul's and Erhmantraut's paths cross again on the wrong side of the law that Saul straddles.
Season 2 starts Monday, so there's still time to binge-watch Season 1 on Netflix. Come on. I know you don't have Valentine's Day plans.....
do it!