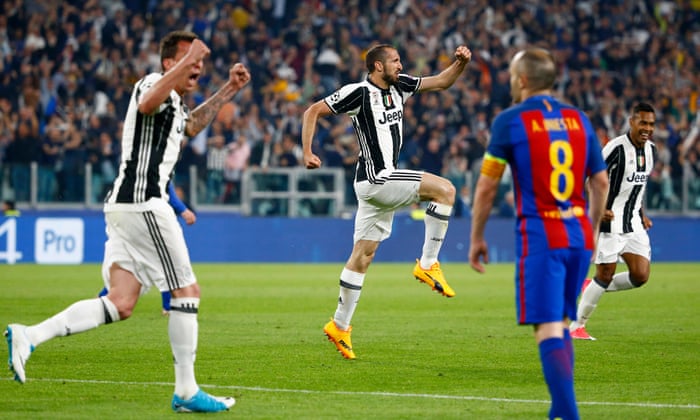 I saw the portion of this game leading up to half time (a little thing called "work" got in the way of my enjoying the whole game), just as Juventus had gone up 2-0 and was tucked into full scale Italian "catenaccio" mode: essentially a stifling defensive posture that allows nothing past its gates. I missed all the goals (natch); two by Paulo Dybala and one by Georgio Chiellini (pictured celebrating). You may (but probably not) remember Chiellini as the Italian player Luis Suarez did his Dracula impression on back in the 2014 World Cup, earning his exit from the tournament and dismissal from Liverpool FC. Which, let's face it, Liverpool got the worst of that deal it seems...
There's nothing better that I like to see than Barcelona go down
, especially in a clean sheet and in a big tournament like the Champions League. Where does this sudden hatred of Barcelona come from? I'm a fan of the underdog, remember...and not the Juventus is the underdog (not by a long shot), but a couple weeks ago when Barcelona mysteriously found a way, thanks to two bogus penalties, to come back from a 5-1 deficit and beat Paris St. Germain, I found a new loathing for Barca. And also I'm Italian: it would be against my heritage to favor them in a contest with an Italian team. But...ask me in a month I might feel differently.
The REAL test is when these teams square off next week at the Camp Nou, Barcelona's home. Home field advantage has an enormous influence in international soccer. Enormous. Just look at how many host countries have won the World Cup or the European Championships, and how often the home field swings the difference in tournaments like the Champions League.
I'm betting Barcelona finds some way -- upright or via floppery and bad reffing -- to overcome the 3-0 deficit they're in now.